Feature Film – The Secret of Kells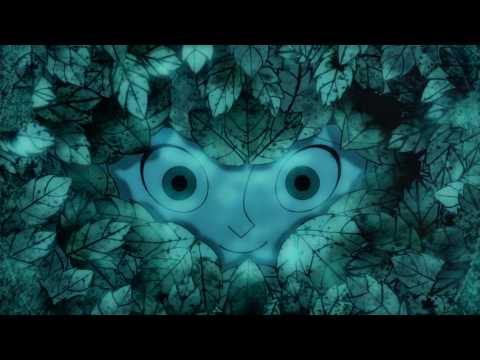 A bewitching animated fairytale for Children and adults alike.
This vibrant animation is a spirited retelling of the provenance of Ireland's mosted cherished artefact, the Book of Kells. With the Viking hordes approaching, the monks of Kells are forced to turn their attention from transcripbing manuscripts to building barricades. The future of the precious book is in jeopardy and it falls to Brendan, young nephew of the abbot Cellach, to save the day.
The Secret of Kells is Cartoon Saloon's first feature film and was directed by Tomm Moore (Check out his Secret of Kells Blog) with Nora Twomey as Co-director. Nominated for an Academy Award for best animated feature, the Secret of Kells has screened and won awards in major festivals worldwide . DVD's and BluRays will be available in the US and Australia very soon . Optimum releasing have acquired the UK rights.
For more information please visit:
Some Nice things people have said about our first feature:
Irish Times - "an entity of considerable beauty and originality…..Stunning! A cascade of light, color and wonder burst from the screen" ***
Irish Independent - "ambitious and classy animation … a real and rare pleasure" ****
Metro - "candy for the eyes…great voice acting and haunting soundtrack," ****
The Star - "truly enchanting…a breath of fresh air." ****
www.movies.ie: " a unique animated movie … beautifully made … has a magical other-worldly feel, with a script and visuals that reminded me of Hayao Miyazaki's movies (Spirited away etc..)… puts other 3D movies with bigger budgets to shame." ****
Sunday Tribune - "exquisitely realised" 4/5
Screen International - "Certain to draw fans… Visually ravishing … magic"
Le Monde - "A visual universe of true splendor that holds the spectator from beginning to end in a continuous state of awakening.
Variety – "Luscious to behold"
Twitch – "A gorgeously realized fable about the power of imagination and artto thrive even in the most hostile times. Immediately establishes Moore as an absolute master of his craft – a story teller and visual artist who deserves to be mentioned in the same breath as masters such as Michel Ocelot and Sylvain Chomet."

Also a nice Mother and son review we found on the the web:
"My son (6) and I went to see this movie today. It was a great relief for me not to be watching the usual computer generated animation of childrens films. The images were beautiful and the story held both of our interest as well as providing for interesting future discussions.
The six year old review.  'It was a good film and I really liked the end. I liked the ink making scenes.'
http://artsrocket.blogspot.com
The Kilkenny Crew on Kells -

Cast and Crew
Director Tomm Moore
Co-Director Nora Twomey
Screenplay Fabrice Ziolkowski
Art Director Ross Stewart
First Assistant Director Rémi Chayé
Editor Fabienne Alvarez-Giro
Executive Producer Ivan Rouveure
Head of Production Katia Besimensky
Executive in Charge of Production Camille Leganza
Production Coordinator Audrey O'Brien
Production Assistant Rahma Ghili
Storyboard Rémi Chayé, Tomm Moore , Nora Twomey
Character Design Tomm Moore
Barry Reynolds
Final character designs Barry Reynolds
Viking Designs Jean Baptiste Vendamme
Background Design Aurélie Bernard
Adrien Merigeau
Head of FX Jeremy Purcell
Creative Supervisor Anton Roebben
Original Music Bruno Coulais
With special contribution from Kíla
Produced by Didier Bruner
Viviane Vanfleteren
Paul Young
A France-Belgium-Ireland coproduction Les Armateurs
Vivi Film
Cartoon Saloon
France 2 Cinéma
With the support of Le Fonds EURIMAGES du Conseil de l'Europe
Media Plus Programme i2i Audiovisuel
Developed with the help of the MEDIA program of the European Community
With the participation of Canal +
Ciné Cinéma
Gebeka Films
Conseil Général de la Charente
Conseil Régional de Poitou Charentes
Piste Rouge
In association with SOFICA Soficinema 2
With the participation of Bord Scannán na hÉireann / Irish Film Board
With the help of The Broadcasting Commission of Ireland
Made in association with RTE
With the support of Flanders Audiovisual Fund
Centre du Cinéma et de l'Audiovisuel de la
Communauté française de Belgique et des
télédistributeurs wallons
La Région Wallonne – Promimage
La Région Wallonne – Wallimage
With the participation of Tax Shelter ING Invest of Tax Shelter Productions
Belgacom
Kinepolis Multi
Production Pipeline by HoBSoft

VOICES
Evan Mc Guire Brendan
Mick Lally Aidan
Christen Mooney Aisling
Brendan Gleeson Abbot Cellach
Liam Hourrican Brother Tang and Leonardo
Paul Tylac Brother Assoua
Michael Mc Grath Adult Brendan
Paul Young Brother Square
© 2008 Les Armateurs/Cartoon Saloon/Vivi Film/France 2 Cinéma
Tomm and Paul Answer questions after the screening we had in Pixar. (Thanks Ray Doran, fo the video!)